Before and After
HRU has assisted in saving over 80 horses from abandonment, abuse, neglect, and slaughter since March 2010.
While some of our horses were surrendered in excellent condition by caring owners or trainers, others have survived starvation, neglect or abuse and needed extensive rehab or re-training. Please take a look through some of our most notable transformations below.
Prince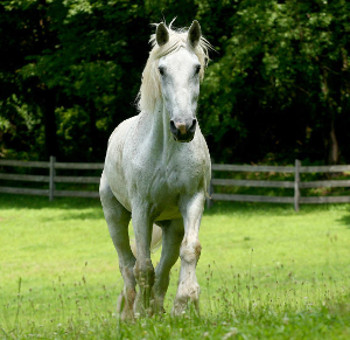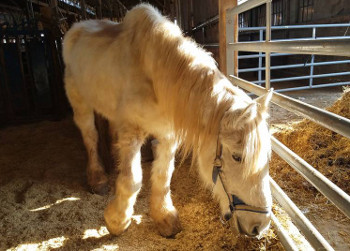 Prince was a 30+ year-old Percheron gelding who was found at New Holland auction on January 30, 2017. He was not cleared to run through the sale, so HRU purchased him from his owner to ensure he wouldn't fall into the wrong hands.
Prince was very thin and missing teeth, so he required multiple mashes a day. He also needed to be treated for mites. He thrived for nearly a year and a half in his foster home. Sadly, Prince was humanely euthanized due to a displaced colon/colic in June 2018.
Rose Puddle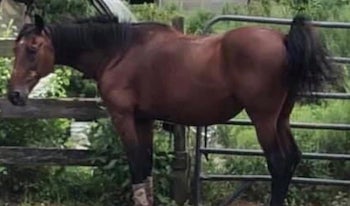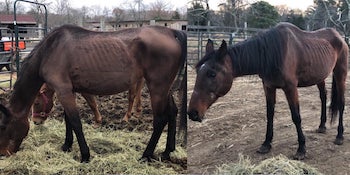 HRU took Rose in as an owner surrender in November 2020 along with Willow. Rose was severely emaciated, a body score of 1. Rescued at 26, the first few months were precarious, but she steadily regained weight with proper feedings.
After a year under HRU's care, Rose was adopted as a companion for a 40 year-old gelding.
Butterscotch Swirl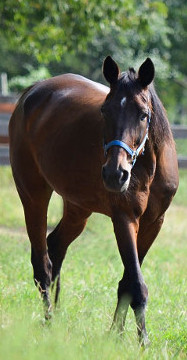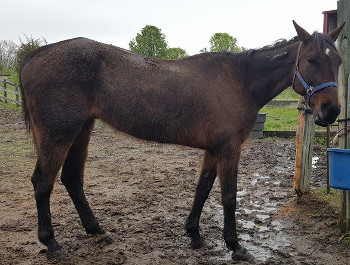 Butterscotch Swirl, or Scottie, earned over $170,000 as a Standardbred racehorse. In March 2016, HRU found Scottie at New Holland auction. He was very thin and the freezebrand on his neck had been burned/cut off to prevent him from being identified. We were able to confirm his identity through DNA testing thanks to assistance from the United States Trotting Association.
Scottie last worked as an Amish horse and developed osteoarthritis and severe lower ringbone in his right front hoof, but is pasture sound. In October 2020, Scottie was placed in an adoptive home.
Silver Gem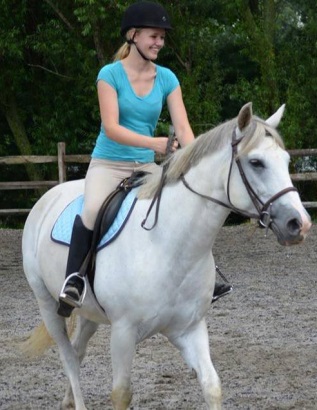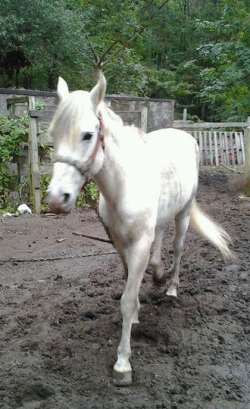 Silver Gem spent 8 years chained in a yard as a skinny stallion. Anouk first learned of him when she spotted two ponies, Cocoa and Star, who were also living on chains, but along the side of a road.
Anouk found the family who owned the ponies and offered to take them. Anouk was able to purchase Cocoa and Star and get them to safety, but before she left, the family showed her the thin, gray 10 year-old Quarter Horse stallion in their yard, who had been chained to prevent him from escaping the inadequate fencing.
Thanks to the assistance of several dedicated HRU sponsors, funds were raised to purchase Gem. After a rehab period, he was re-started under saddle. It was clear that he hadn't had proper training and had his mouth yanked on previously. While Gem had regular interest, he was playful and would test inexperienced riders, so he needed an advanced person.
In Summer 2012, HRU was contacted by a 13 year-old girl named Tess, who had learned about HRU through a friend and fallen in love with Gem. A strong young rider, Tess and Gem proved to be the perfect match. Gem went home with Tess in October 2012, exactly one year after his save. Read Tess' adoption testimonial.
Tristan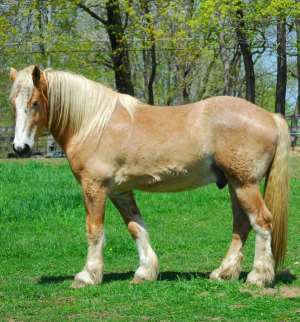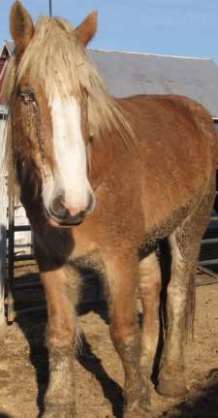 Tristan found himself at New Holland auction on January 3, 2011. Thankfully, Anouk was there too, and purchased Tristan for just $35 before he could sell to a kill buyer.
A former Amish workhorse, Tristan was thin, covered in dried mud and had a bulging, cancerous eye. X-rays showed that the cancer was terminal, having already spread to his bones. Tristan would likely have no more than six months to live.
As the months passed, Tristan just continued to look better and better. His eye would often bother him, but it was cleaned daily. After 10 months under HRU's care, Anouk decided to bring Tristan to the New Bolton Clinic in Pennsylvania for further x-rays and evaluation. The x-rays showed that the cancer hadn't significally progressed, so to help keep Tristan more comfortable, his cancerous eye was removed.
Tristan continued to defy the odds until August 13, 2016 when he was humanely euthanized. The cancer had overtaken his other eye and we felt he would not adjust to being a completely bilnd horse. In addition, removing the eye would not have saved his life since the cancer was in his bones. Tristan was an inspiration to everyone he met. He was a very happy horse who enjoyed life to the fullest and we miss him greatly.
Trolley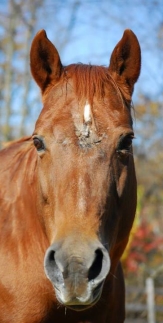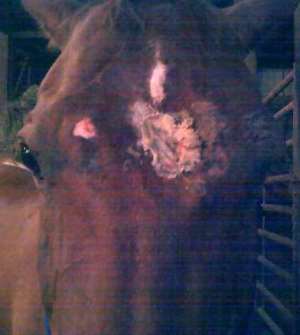 Trolley was discovered at auction on June 30, 2010. Anouk found her with a sock superglued into and over a gaping hole in her head. While Trolley's past is unknown, she may have been stabbed in the head with a pole. Thanks to two surgeries with Dr. Patty Hogan, the hole on Trolley's head was reduced to the size of a quarter.
On Christmas Day 2010, an HRU volunteer decided to adopt Trolley. She was boarded with HRU for a few months while the adopter got her property ready for another horse. Just shy of one year of her save, Trolley went home for good.
Trolley has acted as an ambassador for horse abuse awareness at several events. Trolley is currently spending her days as a beloved pasture pet and companion. Read Laurel's adoption testimonial.
Hailey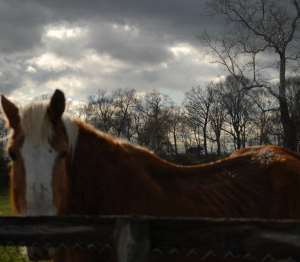 Hailey was a Belgian mare in her late 20s who was a severe neglect case. She had been badly starved with untreated, infected scratches on her legs. Hailey had a docked tail, so she likely worked as an Amish cart horse prior to the home that neglected her.
Hailey's sweet, well-mannered nature was obvious from the start. With proper food and care, she bounced back to good weight quickly.
In December 2013, Hailey was adopted to a loving home. By Easter 2016, her family was sadly unable to keep her, so Hailey returned to HRU. She passed away on December 10, 2016.
Bernie & Lucky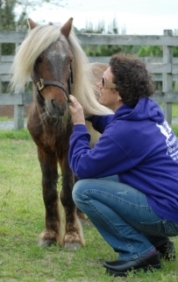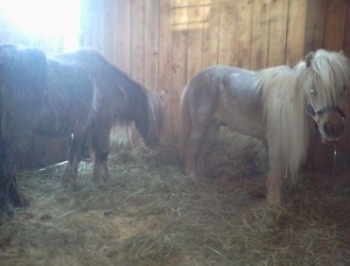 Bernie and Lucky were neglected and surrendered to HRU. They needed a lot of TLC to return to good weight and health. Bernie, a 20+ year-old Shetland pony stallion, was a walking skeleton, and Lucky, a young miniature horse who was also thin, was infested with lice and had to have most of his coat clipped.
As with any starvation cases, Lucky and Bernie had to be carefully fed several small meals each day and closely monitored. Bernie had been leased by an organization called Personal Ponies, who gave him a permanent retirement home after he was rehabbed. Lucky was just that; he enjoyed two adoptive homes where he was loved and doted upon by children before passing away in 2020.
Jessica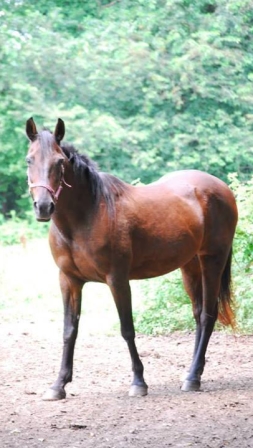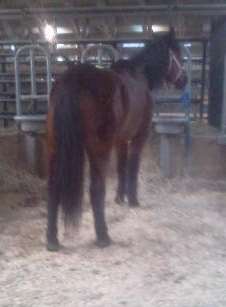 Jessica has come farther than any HRU horse. When Anouk saw her at New Holland auction on January 3, 2011, Jess was a lame, skinny and miserable older Standardbred mare.
Anouk knew no one but a kill buyer would be interested in Jess, so she waited and purchased her for just $75. When Jessica arrived at HRU after a month's quarantine, she continued to show evidence of past abuse; she was initially too scared to even take a carrot from Anouk.
Soon, the way to Jessica's heart presented itself; peppermints. Jess adores the mint candies and they became the key to earning her trust. Within a few months, Jess was started under saddle and later evaluated in harness; it was clear that she had driven in the past and likely spent most of her life as an Amish buggy horse.
Due to health issues, Jessica became a permanent resident with HRU. She was humanely euthanized on April 25, 2020.
Isis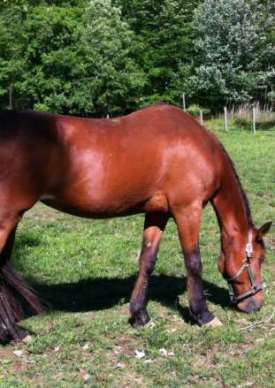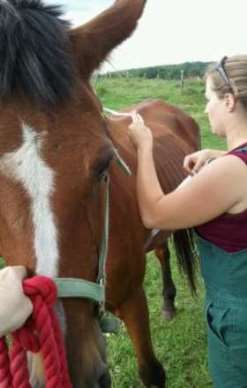 Isis was an older Standardbred mare who joined HRU in Summer 2011. Isis was pulled from auction by a "horse rescue" who ended up starving her and several other horses. A group of private individuals stepped in and Isis was offered a foster home in New York with HRU adopter, Randy, who had previously fostered Justice.
After months of rehab, Isis moved to New Jersey to live with HRU's other horses. Just days later, a home had stepped forward seeking a companion for a horse who had recently lost his best friend, and Isis soon headed to her new home. Isis spent nine years with her adoptive family before returning to HRU. She found a new home with another prior HRU adopter in December 2021, and was humanely euthanized due to severe colic in late March 2022.
Sophia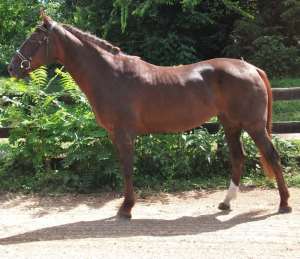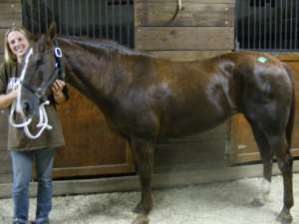 Sophia was found at auction in September 2010. This 30+ year-old mare had eyes so badly infected, she couldn't even open them.
Thanks to proper veterinary care, Sophia recovered quickly and kept her eyesight. Her sweet and gentle nature endeared her to Karla, owner of Misty Brook Farm in Virginia, and she was quickly adopted. After 12 years in her loving adoptive home, Sophia was humanely euthanized in March 2022. She was estimated to be over 40 years old. Read Karla's adoption testimonial.
Star & Cocoa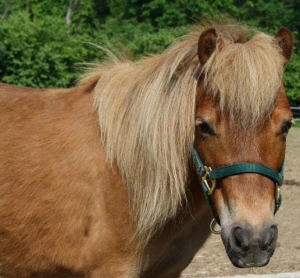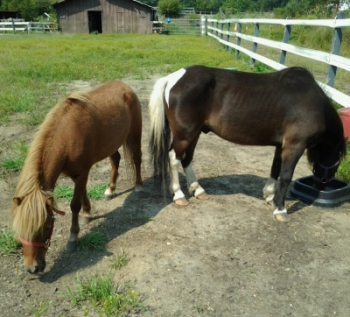 Star and Cocoa came from the same home as Silver Gem. The ponies were found living on chains along the side of the road in a development. Their owners didn't know how to properly care for horses, so while they had basic care and grooming, both were thin, had no shelter and limited space to move around. They had lived on chains for three years.
Anouk met with the owners and purchased the ponies for $75 each. Ponies are at a higher risk of founder, so they spent the next month in quarantine under careful observation.
HRU strove to keep Cocoa and Star in a home together. After their first home offer didn't work out due to herd dynamics, they soon found their very dedicated mom, Gina. The ponies now enjoy the daily attention of Gina and her family and share a field with an equine friend, a mini horse named Smudge. Read Gina's adoption testimonial.
Justice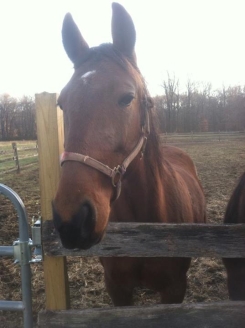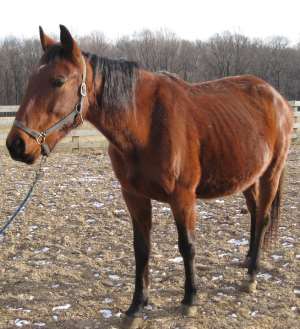 Justice was one of the four horses that Anouk saved from New Holland auction on January 3, 2011. Then in foal, she was starving and headed for an uncertain future on an Amish truck, so Anouk stepped in to purchase her.
Justice was offered a foster home with HRU adopter, Randy, who helped her get back to good health and weight. Sadly, Justice delivered a stillborn filly named Astraea that April. After proving herself a wonderful beginner riding horse, Justice was adopted that summer. After a year, circumstances changed for that home and she was subsequently placed with another family. When that family's situation changed, HRU was once again there for Justice, proving our contract does protect horses for life and isn't just a piece of paper.
In July 2013, Justice was adopted to Robin and her family in New Jersey, who fell in love instantly. They can't believe how lucky they are to have such a sweet, loving horse. We're confident that the third time will be the charm for Justice! Read Robin's adoption testimonial.