Testimonials
Cloud Nine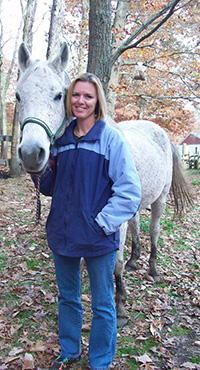 "It had been a long time since I had owned a horse. I had shared with my closest friend that I would like to own another horse someday. I even explained exactly what I was looking for.
One day I received a "share" on my Facebook timeline. I remember my first reaction when I saw Cloud Nine. I thought that he was gorgeous and I hoped that he would find a good home someday. My friend shared another photo of him several weeks later, and this time I reached out and discussed the horse with her. We looked at his description and videos and decided that I would like to check this horse out for myself.
I tend to be a bit on the skeptical side, so I wanted to see Cloud prior to officially signing an adoption application. HRU was supportive in facilitating my needs. I found that the contacts were quick and thorough. I can now vouch that these horses are exactly as advertised and well cared for. Do not be afraid to look into the process if you are interested.
What I have received from Horse Rescue United is a WONDERFUL, well-trained horse that was in search of his forever home. There is something in the soul of a horse that has suffered horrible abuse; they know when they have a good home and appreciate it.
Cloud Nine has stolen the hearts of most of the people who have come in contact with him. Every single day I am greeted with a happy face and big whinnies. It is hard to believe that this horse was neglected and passed by for any reason." - Kathy, Cloud Nine's adopter (Delaware)
GT Gaitor & Baby Cookie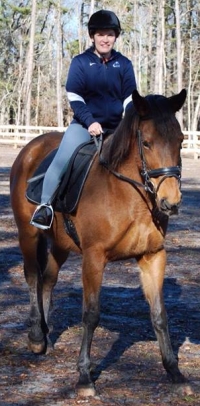 "I've always dreamed about the day I could sit on my deck sipping a cup of coffee (or glass of wine, depending on the time) and look down on horses grazing in my backyard. Fast forward twenty years of hard work and saving and now that dream has come true. I could have boarded and leased a schoolmaster with an exorbitant price tag, but that's not what I wanted. The joy for me is not blue ribbons and perfect scores. It's sweet slobbery horsey kisses from Baby and that comforting smell when I put my arms around GT's warm neck. These are the mares I adopted from HRU, and they are perfect.
I wanted to give a home to a rescue horse and contacted several local adoption programs, but either got no response or was put off by their poor management. When I contacted HRU, Diana emailed me instantly. The process was quick, pleasant and seamless. GT fit the bill perfectly, an ex-racehorse Thoroughbred mare (my M.O.), and Diana suggested Baby as a second horse. I had no experience with Standardbreds or driving, but Baby moved well under saddle and was definitely willing to please. Given the horrible winter we had, I had just one chance to ride Baby prior to adoption, and I was already in love. The mares were put together in the herd at HRU and naturally paired off. It was as if it was meant to be!
The day we brought them home, the girls excitedly raced each other around the paddock- Baby trotting as fast as GT galloped. They are now settled in and love to roll in the mud and the shallow pond that forms in the corner of our pasture when it rains. When I ride one mare, the other comes along and tries to get us to play. We're working on trust and cues and it will be years before we're competing in the show ring, and that's ok. I wouldn't have it any other way. Every little accomplishment in earning their trust is cherished and every chance to ride is a blessing.
I have three boys, all under four years old, and it is heartwarming to see them bond with the mares. The girls are gentle and patient, stepping carefully around the boys and they never try to bite little fingers. They are my love and passion and I look forward to many hours in and out of the saddle as we learn from one another. I don't take these treasures for granted. It is true that HRU matches horses to the right home, and I am truly in love with my girls. Thank you Diana, Anouk and all of HRU's volunteers for helping make dreams come true. I will continue to spread word about you to all the horsey and horseless people I know." - Cristina, GT Gaitor & Baby Cookie's adopter (New Jersey)
Amos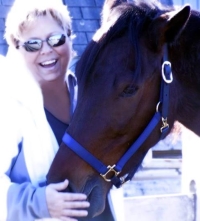 "Amos is one of the biggest blessings in my life. I have many, he is a big one. Meeting Amos, falling in love with his picture and the journey that follows. Thank you HRU for allowing the connection and giving me an opportunity to adopt Amos from your horse rescue. I am so grateful to be the proud adoptive mommy of Amos. I will love him with all that I have. He never suffered a tragic life, in fact it seems that he was looked after the entire journey. He is the sweetest spirit and I feel so humbled and blessed to have our spirits be intertwined in this life. Having him in my life teaches me so much and has brought so many amazing people in my life, including the people who love him as much as I do and care for him daily in his boarding home. Thank you Diane and Nicole. Thank you Anouk, Diana and everyone at HRU for believing in me and trusting me with this sweet boy. Most importantly, thank you Trish for sharing his beautiful picture that made me fall in love. If it wasn't for the share, I might not have ever met him. Please take the time to share the photos. You never know who it will reach." - Katherine, Amos' adopter (New Jersey)
Always in my Heart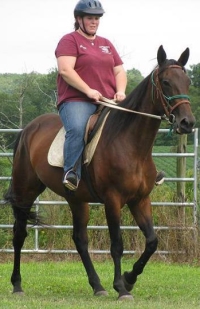 "I had a Standardbred mare that I rode and drove for many years before she passed. I have another breed of horse who was to be her replacement, but always knew that I would go back to Standardbreds. There are so many wonderful attributes that this breed possesses; I don't have enough good things to say about them.
A few years later, I made the decision to find another Standardbred and searched and searched. I asked around for any possible contacts. I live about three hours away from HRU in north central PA, but a mutual friend from the racetracks told me about Anouk and HRU. To be honest, trying to get down to see the mare I was interested in was about impossible, but finally our work schedules, the weather and the horse all cooperated and I was able to meet Always in My Heart (Maya).
I brought her home just over a year ago and am thrilled that she has met all my expectations, even as a 5 year old, which is "troublesome teen" years for most breeds. I started riding her last summer and I'd like to get her involved in the pleasure aspect of driving this year. Everyone at HRU has been wonderful, from the initial meet and greet up to now. Responses and feedback come quickly and it is very evident that they care for all their horses, even the ones that have already found homes. I can't wait for opportunities that await Maya and I this year and beyond." - Kelly, Always in my Heart's adopter (Pennsylvania)
Justice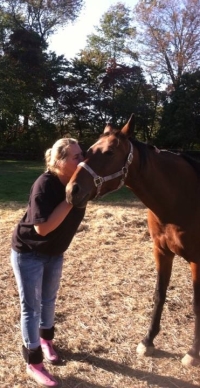 "I started working with horses because my daughter and I suffer from severe depression. Medications just weren't working. Justice was the answer to our prayers. Since we've adopted her, we're both off all medication. It's a miracle. It was a great day when we picked her up from Albany." See Justice before & after. - Robin, Justice's adopter (New Jersey)
Minnie Driver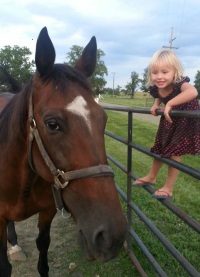 "Standardbreds are the best horses. They are all a little different, but always kind. I have nine and each one makes up the barn personality as a whole. We have our own little 'Team Loafers' that pretty much do nothing...except make other people's day." - Jaime Riddle, from Hanna (Enhance the Beauty) and Minnie Driver's adoptive family (Michigan)
Silver Gem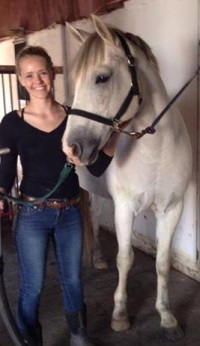 "Gem and I are doing great. I love him so much. When I'm having a bad day, it's so nice to go to the farm and see his face. Sure, he has his days, but it's too hard to stay mad. I get to ride him a lot now and he's gained my trust. I want him to know that I'll always be there for him, no matter what happens." See Gem before & after. - Tess, Silver Gem's adopter (Pennsylvania)
Cocoa and Star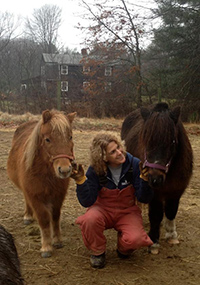 "I wish I could tell you some amazing miracle story about how my little loves came into my life...something that would give you goosebumps or bring a tear to your eye...but it's a pretty simple story.
I had an unknown void in my life that apparently led me to Petfinder.com and showed me the way to these little nuggets. I can honestly say that I am a firm believer in 'everything happens for a reason' because I was not originally the person slated to be blessed with Star and Cocoa. I was second on the applicant list and was told they were going to the first home. Because of that development, I was led to my first mini, Smudge. Three days later, HRU contacted me as the first applicant had suddenly backed out. They wondered if I was still interested...silly question!
600 feet of fencing, a new run-in shed, numerous phone calls, and a 10 hour round trip truck and trailer journey later, Star and Cocoa found their way into not only my heart, but everyone else's who have been lucky enough to meet them. There is not a day that goes by that these precious animals don't make me laugh and smile. The greatest joy is seeing how much more they trust me every day. They are more than just horses; they are my pets and my family.
I cannot thank Anouk, Diana and other HRU contributors for making this happen; I wouldn't trade what I have with Star and Cocoa (and Smudge) for anything!" See Cocoa & Star before & after. - Gina, Cocoa & Star's adopter (Connecticut)
Sierra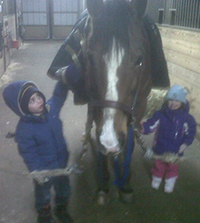 "Sierra, aka 'the Queen,' is still every bit of royalty as she was with HRU. Now, her royal servants are her family! She now ground ties when we groom her and will stand in the middle of the isle while the kids walk around (and under) her. Sierra puts her head down to be groomed and lets my son use the face brush to tickle her ears. She nudges at us begging for treats; she's learned to love all kinds, especially mom's baked apple mash. Sierra is still a feisty girl and loves to run around every day when she's turned out. She will follow the kids around the field and nuzzle at their pockets, hoping they have treats for her; of course, they usually do. Sierra has brought hours of joy to our family and I know there are many more years that she will bring smiles to our faces." - Rachel, Sierra's adopter (Connecticut)
Unique Cookie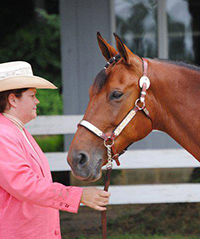 "Nikki (Unique Cookie) has come so far. She loves to be around people and aims to please. She's learned to better respect personal space, loves to canter and jump; she actually does better with slightly higher jumps vs. low crossrails. She has yet to meet someone who hasn't fallen for her." - Dale, Unique Cookie's adopter (New Jersey)
Trolley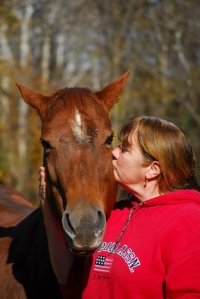 "Trolley is officially one of the gang. This pony has endured so much. I've been a fan of Trolley's from the first night I heard about her injury when Anouk attended Camelot and have followed her journey the months thereafter.
To think a year later she'd be living with me just blows me away. Trolley has so much love to give and I really feel like she is beginning to trust me more and more; just through her little actions of nuzzling me in the morning to leading her to her paddock at night and exchanging good night kisses. You are so loved here, Trolley. You're home for good! Thank you, Anouk and HRU for having faith in me and letting me be the one to give Trolley her forever home." See Trolley before & after. - Laurel, Trolley's adopter (New Jersey)
Tuffie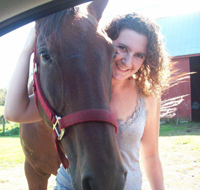 "Late one night, I was on the computer and saw a link to HRU. I clicked on it and saw the most beautiful horse I have ever seen. His name was Tuffie. He took my breath away, so I inquired about him. Diana responded within minutes. In less then a few hours, I had filled out the application and sent it back. In about a week's time, I was approved and on my way to meet my new horse. It was love at first sight! The staff of HRU were amazing. Anouk and Diana were very helpful and friendly. I have had Tuffie for four months and he still amazes me. The horses of HRU are well-cared for and beautiful. If I were to get another horse, it will only be from HRU. They are loving and caring people and only want the best for their horses. I can't say enough about them or Tuffie. He is my life and my world; my true friend, thanks to HRU!" - Susan, Tuffie's adopter (New York)
Gleason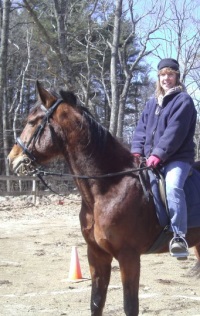 "When looking for a horse, I wanted a horse for trail riding and dabbling in dressage. I had no experience with Standardbreds and little did I know what a wonderful breed they truly are. I am now finding, much to my surprise and enjoyment, that I actually love hanging out and playing with my horse MORE than riding. This breed is very compassionate, adaptable, willing, and smart. Who would have ever guessed that I could go jogging with my horse, talk long walks or read a book in his stall with him, sit on the floor while he's lying down resting, or teach him 'doggie' tricks. If I could never ride Gleason again, it really wouldn't be the worst thing in the world. What I am trying to convey is that I hope people won't be dissuaded by the small 'limitations' that some HRU horses may have (i.e. ones that may need a smaller rider or who are suitable for light riding only). There is far more to a horse than just riding." - Sarah, Gleason's adopter (Massachusetts)
Shane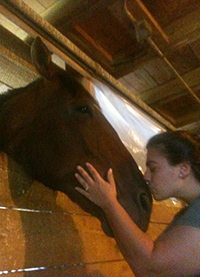 "Dealing with HRU was and still is wonderful. When you adopt one of their horses, you become part of a family; a family brought together by the horses we all love. For me, they went out of their way to help me adopt Shane; I hit so many snags in the process, but they were very supportive and helpful. Now that I have my Shanie, they still are there to answer any questions that I have and offer advice. Shane is such a great horse; he has a personality that won't quit. We have so much fun together. He always is doing something that has me laughing; be it begging for cookies or taking his halter from me and tossing it over the fence. When we are out riding, he is a perfect gentleman. He is everything I was looking for in a horse and I couldn't be happier." - Jaime, Shane's adopter (New York)
No Nonsense Man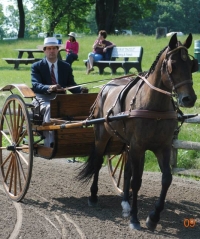 "Dan and I are so happy with Manny and Power. We've loved taking them on occasional trail rides and just loving on them. Since I started driving Manny, I am even more in love than before! He is doing great in his career as a show horse." - Don, No Nonsense Man's adopter (New Jersey)
Beaux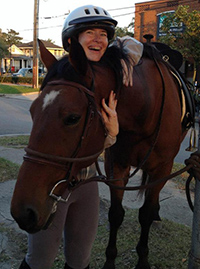 "Mr. Beau Windswept caught my eye the first time I saw his video. After chatting with Diana, I realized he was the better choice between the two horses I liked. Beaux is not an easy horse, he's independent and strongly opinionated, but those are also the traits that make me love him all the more.
Beaux is an incredible clown in the barn and I could not ask for a better babysitter for my daughter. He is that rare horse that plods around like an old plow horse with my daughter, but switches back to intense workhorse when I'm in the saddle. Beaux has taken slightly longer to relax under saddle than some off-the-track Standardbreds, but he also has such an intensity and natural athletic talent that he is learning to channel into riding. He loves trails and nothing spooks him.
I cannot thank Corey Callahan enough for taking the time to answer my questions regarding Beaux at the track: knowing the equipment he wore, bits, and how he was racing made the transition from racehorse to pampered showhorse so much easier. I also am so thankful that Diana and Anouk took the chance on a mentally tough horse that most would pass over for an easier horse." - Jane, Beaux's adopter (Louisiana)
Sophia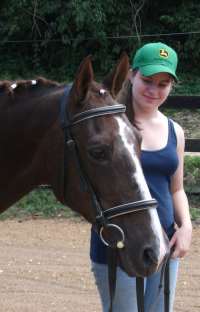 "Sophia, a 30+ year-old mare, came to Misty Brook Farm in the fall of 2010. HRU had rescued her from auction about a month earlier, against the will of the person who dropped her off--he had insisted that he 'wanted' her to sell to slaughter.
Sophia was not in as bad shape as some horses that run through an auction; she wasn't skinny, but both of her eyes were so infected, she couldn't even open them. After HRU saved her, Sophia went to Pennsylvania to complete her 30 day quarantine period.
I saw Sophia's picture on the HRU website and it just haunted me. The voice of reason told me that I had enough horses and did NOT need another one (at the time, I was already supporting six horses, six dogs, and as many cats, most of which were rescues).
Since I did NOT need another horse, I immediately applied to adopt Sophia, and was approved.
After her quarantine period was over, my friend and barn manager, Cathelene, and I drove to PA to meet and hopefully pick up Sophia. But Sophia had developed a sinus infection, which I didn't want to risk passing to my other horses. After further evaluation by a vet, deeming her not contagious, I drove back to PA to pick up the newest member of our family. Sophia stepped right on the trailer (a pleasant surprise, since I had to park on the side of a busy road), and regally stepped off at Misty Brook Farm, looking around as if she had been here before.
Sophia's new herd was comprised of Bucky, a nearly completely blind Appaloosa, and Midnight, one of our previous rescues. Initially, it was not a match made in heaven, since Sophia fancied herself as the alpha mare, while both Bucky and Midnight (having been together for a long time) viewed her as an intruder with bad manners.
As time progressed, the three became a real herd. Sophia learned from Midnight how to be a 'seeing eye horse' for their friend Bucky, who relied on them for mobility (he didn't move about much without one of his mares). I rode Sophia for a short while, but realized that she was much more suited to be Bucky's assistant and a grooming aid for my summer campers. She patiently stood when groomed for long periods, with ribbons braided into her mane and tail, and proudly, yet quietly led the procession of campers and their equine partners for 'graduation ceremony.' Many campers have enjoyed having their picture taken with her.
Why did I take Sophia into the MBF family? I don't know. It was just meant to be. Agreed, she is an older mare, not 'useful' by some people's standards. However, she is a grand old mare, who still has a purpose in life. She takes care of her blind friend Bucky even more so since Midnight has crossed the Rainbow Bridge. Sophia is also a great teacher in equine-human relationships to many young campers here on the farm. You don't need to ride a horse to learn from it and enjoy.
In every person's life, there comes a time when he or she should give back, without thinking of gain or benefits. Something should be given back as a 'thank you' for the good things that happened in that person's life. For me, adopting Sophia was my way of giving back to the universe, the world, karma, whatever you want to call it, without any ulterior motive. I haven't had an easy life, but life has been good to me, and in turn, it was time for me to do something unselfish that will benefit another living creature. Sophia was that creature, joining Misty Brook Farm 'just because.'
Sophia is loved by many. I am so glad she joined us, and hope that she continues to enjoy an even longer, healthy life with us. Thank you to HRU for saving her and allowing her to live out her life in a dignified way. She greets all of you." See Sophia's before & after. - Karla, Sophia's adopter (Virginia)
Doosey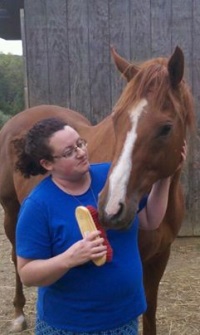 "Who wants a companion horse? Sadly, not many people...other than possibly a cute mini. My Doosey is a 15.2hh Thoroughbred gelding who had suffered an injury as a yearling. He has never been raced or even ridden as a result. Left in a field and hardly handled prior to meeting Anouk, he was shy and often skittish, particularly with new people...exactly the type of horse I love working with. Mind you, I'm not a 'horse whisperer' or a trainer...I've just been around enough horses, particularly abused and unhandled ones, to know that if you're quiet and work slowly, they will come around and open up to you.
After meeting Doosey in July 2010, I couldn't stop thinking about him. He was smart and sweet; he just needed someone to spend time with him and form a close bond. Carrots certainly helped! Doosey relied on his equine friends for confidence around new people, much like one of my adopted cats who had been abused. About a month later, after a potential companion home decided to pass on him, I spoke to Anouk and adopted my boy.
Despite his shyness and having not left the same property for many years, Doosey followed Anouk (and a carrot) right on the trailer and literally unloaded a different horse. After less than 24 hours here, I could walk right up to him and wrap my arms around him for several minutes at a time. He no longer feared being caught or worked with; in fact, he learned quickly that it meant being brushed, getting treats, or going for a handgraze. He's far better than any other horse on the farm when it comes to dentals, shots, or farrier work. It's rare that I don't hear him nicker and see him race over to the fenceline within seconds of pulling into the driveway. I have another horse, a Morgan mare named Luna, who is just as bonded to me as Doosey; I never thought I could have such a strong bond with another horse at the same time, but I do and there's nothing better. Two really is better than one.
On a side note, I personally think adopting a horse that either needs more handling or has been abused is the most rewarding thing in the world. To watch them come around and trust you is the best feeling. Once they do, no other horse will be more grateful. I wish more people would consider companion horses as well--riding is such a small part of truly enjoying a horse. If I had the means to adopt another, I would certainly take Jess in a heartbeat...she's exactly the type of horse that will give back to you as much as you put into her and become your best friend." - Diana, Doosey's adopter (New York)
Any Which Way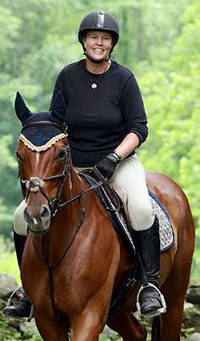 "'You can have any of the horses you tried but the big red one.' Those were the words my husband spoke as we drove home from Allentown last July. The problem was...the one I wanted most was the big red one. I had been following Anouk's Facebook posts about Standardbreds and Thoroughbreds she had up for adoption. My husband was retiring his older race-retired STB mare and was showing ever increasing interest in my young STB mare. He was adamant that he didn't want to get a new horse; he's more comfortable with what's familiar.
So, I decided the best thing to do was to let my husband 'borrow' my STB mare and I would look for a new mare. STB or TB, it didn't matter much to me because we've had nothing but happy trouble-free years with our STBs. Then I got to thinking that I had never owned a TB, and if I was going to get a new mare, I wanted it to be one that would be a project; one that would pose a challenge and make me a better rider. I wasn't interested in a safe, bombproof trail horse; I wanted one with something to learn and something to teach. Then, Anouk's Facebook posts kept popping up on my Wall. I had friended Anouk on Facebook because she was an avid supporter of STBs, and anyone who is a friend of STBs is a friend of mine.
I scrolled through the images of the available HRU horses and read Anouk's posts and got a good feeling about her. She was relentlessly passionate about not just finding homes for the HRU horses, but the RIGHT homes. I jotted down the names of the mares HRU posted as available and ready for adoption. Then I talked my husband into coming along with me to Allentown. He wasn't cool with it. Not in the least. I'm sure he was coming along to make sure I didn't come home with a new mare like I did years before when I told him I was 'popping over to the New Jersey Horse Park for a STB adoption fair' and came home with a signed adoption contract for a mare I had never even sat on. That mare is now the one he adores to no end and is 'borrowing' from me.
In Allentown, Anouk showed me the field of mares and then suggested I take a look at a couple of geldings she had. I decided to just take a look to be polite, but when my eyes landed on Any Which Way (now Omar), the ground beneath my feet shifted. I rode the other horses and they were great, but then I rode Any Which Way. He was powerful and didn't take direction well, and he felt COMPLETELY different than my STB mares, but he also felt 'right.' He didn't feel dangerous; he just felt green.
It took a couple of weeks to convince both my husband, as well as Anouk, that I could handle the big red gelding. My husband is partial to mares and Anouk wasn't convinced I could handle Any Which Way's power, so I had some homework to do. I spent a couple of weeks mulling things over, speaking to trainers, and waiting for my husband to absorb the fact that I wasn't going to change my mind. So, we all decided a one month trial was the best idea.
Even after Any Which Way came home and became Omar, my husband would stubbornly refer to him as 'the gelding' or 'your horse.' For the first few weeks, I kept Omar separate from the rest of our herd and I didn't even try riding him. He was very difficult to catch in his paddock and he tried running me over every time I lead him anywhere. I spent six weeks doing groundwork exercises to improve his ground manners and teaching him to stand tied, which was difficult for him. In a short time, he stopped running away from me and started coming to the fence when he saw me. Then, with help from an Aussie tie ring, he stopped breaking crossties.
After shopping around, I found a trainer and off we went. Omar learns incredibly fast. All he ever wants is to do the right thing. He spent months tossing his head to evade the bit, as well as collapsing on my right leg, but today he does none of that. He's still a powerhouse and I still get nervous when he canter out on a hack that his old racing instincts may kick in, but he's settling.
I love him and he genuinely seems to appreciate that. I feel it's kismet that I found him and he found me. I can't explain it, but it's like the dog I had as a kid; she could read me and knew what I wanted before I knew I wanted it. Omar is like that. Less than a year ago, I couldn't tack him up without two other people holding him, and today I can lead him around without a leadrope.
I'll be forever grateful to Anouk and everyone at HRU for making this possible by giving me a chance." - Gretchen, Any Which Way's adopter (New York)